And so, our last day came… Despite the last few day and the chilling wind, today the weather was great again.
We had no big plans as our flight was at 7.30 PM and we had to make the best of our time left before we had to get to the airport.
The luggage was packed and we had made a previous arrangement with the reception of our building to leave our suitcase with them after checking out so we wouldn't have to frag it with us through the city. After all we had to check out at 12 AM an to leave for the airport around 3.30 PM.
And so… what to do today 🙂 After brief check with the map with attractions I always do for every destination we visit, we found out that we have missed the Dubai Marina which. lucky for us, was close by.
We reached it with the metro again, the station is called Dubai Marina Mall and went straight to the beach. We immediately reached a skyscraper district but the streets were smaller and there were enough sidewalks.
Dubai Marina is one of the world's largest, most meticulously planned waterfront developments and offers the exhilaration and vibrancy of a chic, urban lifestyle together with all the advantages of living on the water. It's a city-within-a-city with a cosmopolitan, free-spirited atmosphere and a unique character all of its own.
The development is built along a three-kilometre stretch of the shoreline and accommodates over 200 residential towers. The area boasts almost eight kilometres of landscaped public walkways, which includes water features, benches and children's play areas. The master community has been carefully designed to showcase a variety of styles of modern architecture and sophistication, offering convenience for shoppers and cinema-goers in the form of Dubai Marina Mall, along with high-end lifestyle destinations such as Address Dubai Marina for socialising and leisure.
The beach is near, no more than ten minutes on foot and we saw some beautiful sights on the way.
Marina Beach is situated along The Walk at Jumeirah Beach Residences, between Bluewaters Island and The Hilton Dubai Jumeirah hotel. Facilities and amenities include sun loungers and umbrellas for hire, a 1.8km running track, showers and public toilets, and many shops, restaurants and food stalls along The Beach shopping avenue. Once known as Russian Beach because of its popularity among Russian tourists.
We stayed here for a while and even if the water was quite cold, at least for me, our son had the best time.
We had lunch here also and started to feel a little bored. Then I remembered that I saw a sign saying that somewhere in the Marina there is a ferry port for boat making tours around the bay. A wonderful chance to see Dubai from a different point of view.
That was all that it takes to make up our minds… It turned out that the ferry departures from quay 7, really close to us and we quickly got ourselves tickets. The good news was that we made our minds fast since the ferry runs only three times a day – at 11 AM, 1 and 6.30 PM. In the picture you can see the routes for all the ferry lines in Dubai, we used the light blue one. The price was 50 dirhams per person, kids under 5 go free. The last stop is Al Ghubaiba Ferry Station and tour lasts about and hour and forty minutes.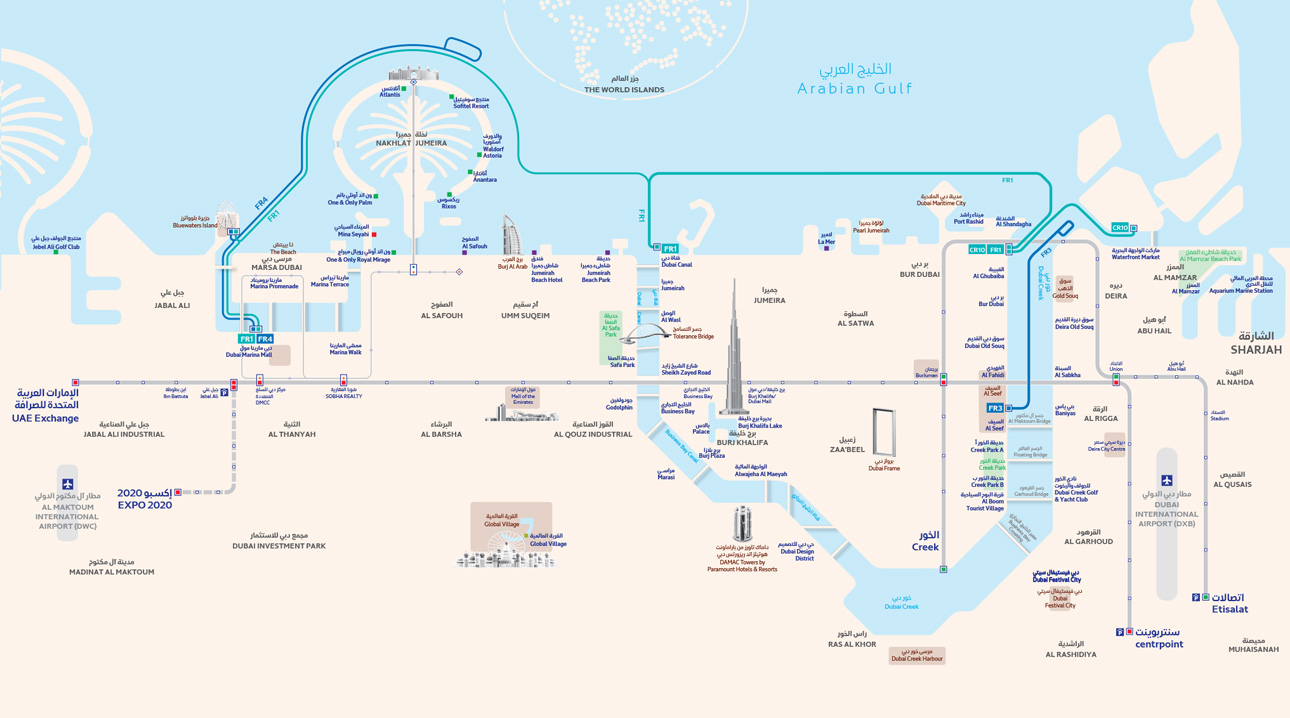 And here is the area that surrounded us:
Exactly at 1 PM we embarked on the ferry, I forgot to tell you that you can buy more expensive tickets, for the Golden class, for 70 dirhams. It is really unnecessary, this is what the ferry looks like, and you can go outside throughout the whole journey for a fuller experience.
And so, our journey began…First, through the Marina:
Then we went under the bridge connecting Dubai Marina with the Bluewaters island and the almost ready Ferris wheel.
…and went for the Palm and the famous Atlantis hotel.
We passed Burj Al Arab from quite far but it's form couldn't be mistaken.
And so, swinging and relaxing we reached our last stop but not before admiring the lovely skyscraper views of Dubai and Burj Khalifa.
Then passed few private island with bursting building sites and signs saying that taking photos is forbidden 🙂 After an industrial parts and docks we reached the beginning of Dubai Creek and our last stop. The landscape here was radically different, this view welcomed us:
We had no more time to wander around so we went straight to the metro. Only the green line goes through this part of the city so we took it for few stops and the changed for the red one, taking us to "our" Mall of Emirates.
We got our luggage and unwillingly said goodbye to Dubai and its oriental luxury. We took the metro again this time to Ibn Batuta station. There is a bus station with the same name and a bus F55 takes you to the airport. In the travel diary for our first day I wrote in details how to travel this route but just few words – you can use your NOL card, validating it on the way in and out, the ticket costs 2 dirhams. The trip takes about an hour and 15 minutes so keep that in mind.
We were at the airport on time, it was luxurious and quite empty and disappointing because its duty free shop. Never mind, we were on vacation, not on a trip to the duty free shop.
The flight was on time but we had a huge and unpleasant surprise in ffront of us. I wrote a few days back about the troubling situation in Iran and Iraq and that we couldn't fly over their territory. Because of this we had to stop in Larnaca in Cyprus so that the crew could change and instead of 5 we traveled 7 hours! You can imagine how we felt in this narrow seats… Sometimes there are things that are not in our hands and we have to do the best of it. In my case – watching the whole season of a lovely TV show 🙂
Nevertheless, alive and well, but very tired and asleep, we landed in Sofia at around 2AM instead of 11.30 PM.
If I could use just a few words to describe this trip to Dubai they would be unexpected and really different. I saw a way of life and luxury I've never seen in Europe before. Way more glaring and overwhelming. Everything in Dubai is made to be the biggest, the tallest, the longest and most impressive.
I don't know if that would be a great idea in the long run but for now it's perfect for the locals because the city is one of the most visited destinations in the world. I, personally, am not quite sure if I would be back any time soon, the city is not my favourite type of life, but the way it changes daily maybe it would be completely different in ten years and I would have to visit the new attractions.
Until then stay tuned for my next travel diaries and don't stop travelling (when we have the chance again)!