This trip started from Karlovo (hometown of my husband), not our usual Sofia, so the itinerary was quite different. Instead of driving on the standart Podbalkanski road we decided to take a turn at Pirdop, to marvel at the nature and to go through Hissar. It was such a good idea, there were almost no cars, the sun was shining and the road was splendid. The idea was so good that I had the chance to look around the road and see want surrounds us, how many memorials and statues there are at all kind of small or big villages, apparently made by professionals. I'll show you just some, after all not all of us are such art freaks, especially about communist art.
Soon after we arrived in Panaguriste where large constructional works welcomed us, and by large I mean almost the whole town. Everything was dug up, but after few directions by kind locals, we managed to find a parking lot near the town center. There are memorials everywhere, but the most impressive one is Borimechkata monument, a statue of one of the biggest Bulgarian heroes.
As all people in Bulgaria know, here was found one of the biggest Tracain golden treasures and Raina Kniagina was born (she is a hero from our Liberation war from the Ottoman Empire). Her house was our first stop. It is traditional for its age, there is a copy of the flag,that Raina saw and a lovely garden. There are only few houses remaining from this time since after the April Rebellion the Turks set the town on fire.
After spending a little more time here we took the road to Oborishte.
The road by car is not much, but keep in mind that after the barrier you have to walk about 20 min. The path is really beautiful, through a forest and from time to time you can see a memorial plate with thoughts by some of the participants in the April Rebellion. Unfortunately, the battery of our camera died and I can show you only photos from internet. On the place of the memorial plaque in 1876 was held the first in the Bulgarian history Great people gathering, which decided to make the April rebellion. The plaque is inscripted with the names of the people who were there, except one, later removed, the name of the traitor…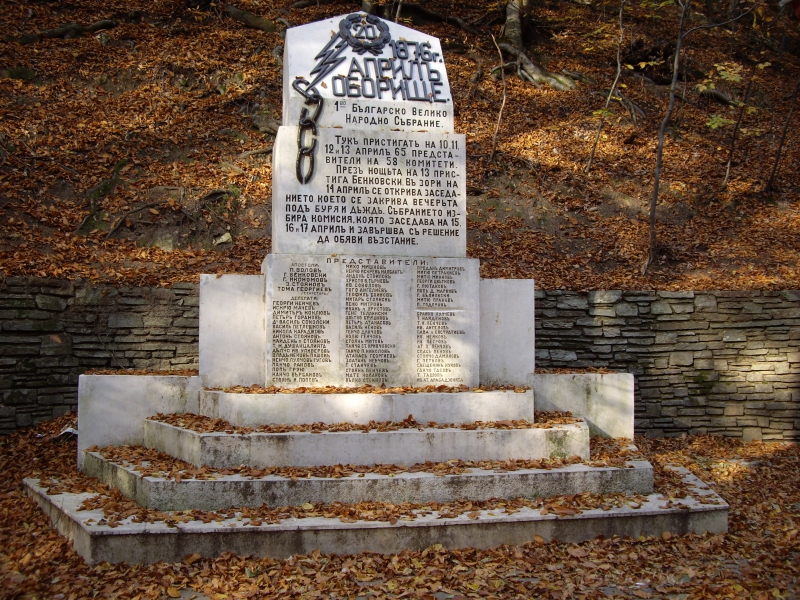 Full with national pride, tired by the strong sun, but more than happy we headed back home. I found beauty in strange places and made a promise to pay more attention to the battered memorials, that I'm so used to.