I already told you about our trip to the desert – one of the most wanted places to visit for me, so there were not so many things left to visit in Dubai.
Nevertheless I had some in mind to fill the next two and a half days but the thrill was gone…
This explains our lack of desire to get up early this day, especially since the weather was turning quite unpleasant with cold wind. It was sunny in the morning but the forecast was promising and rain.
Despite our laziness we couldn't stay in the whole day so we gathered some strength and some time before lunch we headed to the old, not so shiny town of Dubai and more specific – their new fish market.
The journey turned out epic, we to change from metro to bus and the station we got off was looking as the metro stations we are used to, different from the new ones in the city. It's name is Union and was quite beautiful.
We had some walking to the bus stop of bus C28 which was going to take us as close to the market as possible. As I have mentioned before, our whole navigation was made with googlemaps on my phone. We were located in the Deira neighborhood where the poorer people of Dubai lived and it was visible at first sight. We even saw a shop similar to ours where everything costs one lev and we bought a lot souvenirs and local sweets which we a lot cheaper than the other parts of Dubai. Here is something you can everywhere and is as tasty as interesting – stone sweets:
Something else that you definitely must try in Dubai are the dates. They are sold in various types – with chocolate, nuts or mixed with all kinds of chocolate.
We also bought some tea, little jars of saffron and a few other things. We just wanted to look around but walked out with bag full of sweets 🙂 The shops are part of a chain called Day to Day and you can find them in a lot of places in the old part of Dubai.
However, let's continue this diary… We reached the bus stop, had to wait for a while but it was so windy that we had to get in the covered stop but not to take cover from the sun as it was supposed to but from the wind.
You should know that, as in the metro, there is a special part of the vehicle for women and kids only. It is behind the driver so keep it in mind if you travel the whole family.
The trip was so long and we passed such unpleasant parts of the city that I started to worry where are we going and what we will find when we arrive. The bus left us in some industrial area and googlemaps was continuing to say that this it the right way and we will be at market soon. There were huge building sites everywhere around us, highways and overpasses were built and all sort of buildings. There was a narrow path visible between the constructions and after a brief dispute we decided to continue with the plan, after all we were so close, and we started to pass by scaffoldings and workers.
Unfortunately, there are no photos, I was so stunned and wanted to just get out of there quickly that completely forgot to take some evidence about the situation.
However, finally we reached a brand new building and looked astonishingly like a shopping center.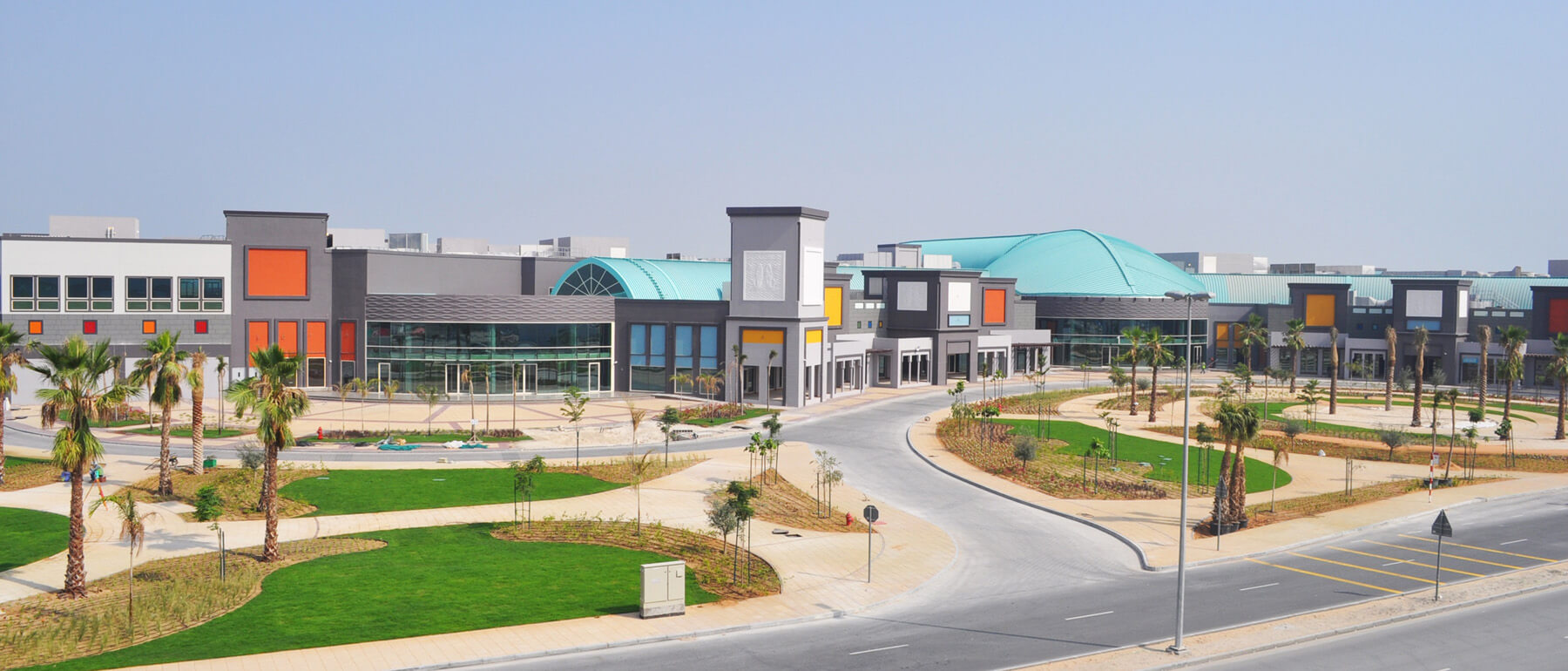 Inside it was warm, I forget to tell you about the horrible wind following us all the way, and surprisingly empty. It's name is Dubai Waterfront Market and it was impressively clean and beautiful.
The market turned out to be not such a market as a fish trade and people were calling and pulling you from every stall so the experience was not as pleasant as expected. I managed to make some photos:
In the back the market is located on the water and the boardwalk was decorated for the upcoming Chinese New Year.
And here the fishermen sell their catch every morning:
Despite the fact that it was almost 2 PM only a few restaurants were preparing to open. We ere quite hungry and after a brief info with their menus we chose the one with most people inside, three to be specific 🙂
It turned out, that in the restaurants in the market, beside the fact that the fish is as fresh as possible, you can go and buy it from the market and the restaurant will cook it as you like for a fee.
We chose the menu, we are not fish experts and there was no point to buy some, so just ordered some, had no idea what to expect expect that there were two side dishes included. The prices were suspiciously cheap and we were a little worried. Fortunately, the food was so delicious that i recommend to visit this restaurants if you ever find yourself in this market. And here is our order : two huge plates with fish, the side dishes were rice and humus. For our son we have ordered fish fingers with chips and instead of humus he got something like yogurt. The kids menu was so big that a it will be enough for a grown up.
We were really pleased with our pick and pretty full we were ready to continue our plan when we saw that there was a storm and a pouring rain outside. We had no other choice but to walk around the building some more and with the first sites of clear sky to go on for another part of Dubai's history – the historic neighborhood Al Fahidi.
We got there with bus, luckily it was not raining but the wind was really unpleasant.
See what traditional life in Old Dubai was like during the mid-19th century at Al Fahidi Historical Neighbourhood. Located along the Dubai Creek, this district is a key heritage site that has preserved much of the original infrastructure. Social life, cultural development and trade were prominent throughout this period, and you can still experience what life was like within these same streets.
The old wind towers constructed from stone, teak, gypsum, palm wood and sandalwood represent only a small part of Al Fahidi's history. Each alley, twisting pathway and breezy tower tells a story of a life before the Emirates.
There are over 50 'houses' to explore. Start at the Sheikh Mohammed Centre for Cultural Understanding, where you can join a guided tour of all the different aspects of this district and gain an insight into local customs. Afterwards, stop by the fascinating Coins Museum which displays over 470 rare coins and shines a spotlight on the monetary system of the British Empire, India and countries in the region before independence.
Other highlights include the Symposium House and Events House, which often stages cultural events and heritage-related activities, such as demonstrations by local craftsmen. Make sure you don't miss the Calligraphy House (Dar Al Khatt) that specialises in Arabic calligraphy and everything related to the creative art form, as well as the Municipality House that stands as a remarkable example of traditional Dubai architecture.
On the way out of the Al Fahidi there was a surprise – a tent on the sand with traditional furniture and falcons and behind it – a camel with a baby. They were showing the way the Bedouins lived in the desert, it was very interesting for our son never mind that he saw and even rode some camels yesterday.
There was a traditional boat on display also:
Close by is the Dubai Creek where you can see many boats, a few of the poorer neighborhoods on the other side and the traditional way to cross from one bank to another – the Abra boats.
Our way back to the bus was through a market for clothes, spices and souvenirs.
We went pass the Dubai Historical Museum but it was late and the museum was closed:
And there were only problems from now on…First, it started raining, after about five minutes it was pouring and we had to hide in buildings entryways. Running from building to building we managed to get to the bus, which was supposed to take us close to our last stop, the Dubai Garden Glow, located in the middle of nowhere and we had to walk a lot.
The rain was slowing down while we were at the bus and we decided that after all we will try to get to the park. We got off from the bus at the beginning of the skyscraper's Downtown and headed to the Dubai Glow Garden.
The only problem was that while we were passing by a hotel the it started to rain again and the winds turned brutal. We took shelter under a canopy but I got so cold that there was no point to try to continue with the plan. Especially keeping in mind that the park is huge and all the attractions are outside. The metro station was close so we just headed that way. These were the views around us:
As I had told you in my previous diaries, our apartment was close to the Mall of Emirates and since we had a unexpectedly free evening we decided to wander in it and to see the ski slope or at least what is visible from the Mall.
Ski Dubai is an indoor ski resort with 22,500 square meters of the indoor ski area. The Snow Park is located in Mall of the Emirates. It is the Middle East's first indoor ski resort. A perfect place for fun with your friends and family in the world's largest indoor snow park houses an amazing 3,000 square meters of snow. Strap on your snow boots and experience Twin Track Bobsled runs, a Snow Cavern filled with interactive experiences, and Tobogganing hills. Head one down to the upgrade station for an exhilarating ride on the Giant Ball or jump on the chairlift for a one of a kind bird's eye view of the entire park.
You can see also live penguins up close. Ski Dubai has Royal and Gento penguins who show up few times a day.
I had already warmed myself in the Mall and we had a glimpse of luxurious shops but really wanted to go back to our apartment to rest and keep warm for long. I didn't expect that it could be so cold in Dubai no matter that I was dressed with cardigan and denim jacket…
But, the next day was our last full day in Dubai and we had to fill with emotions.
Stay tuned and don't stop travelling (when we had this chance again)!