The most exciting part of the day was the tour we were going to take to the desert but before that we wanted to see one of the modern architectural wonders – the artificial island Palm Jumeirah.
As I already had mentioned, we traveled only by public transport, we hadn't rented a car. Beside everything else, there are no bus services on the Palm, only a monorail train reaching its most distant point and its first station was our goal.
From our apartment (near the Mall of Emirates) we took bus 84 and maybe after half an hour and 15 stops we got off at Infotech, Dubai Internet City 1. We were surrounded by skyscrapers and building sites but not a living soul. Yes, it was warm, it was noon, but come on, no one till the train station…
From this bus stop we had to walk about ten minutes and we passed little gardens, big boulevards and reached one of the tunnels made for the public transport, I told you about previously. It led us to the train's parking and then to the station itself. The price for the train- 20 Dirhams one way and 30 return, but if you don't have a car or don't want to use a taxi, that is the only way to reach the Palm.
The stops are four (the fifth is not opened yet) and we were headed to the last one – hotel Atlantis and the ocean.
The train itself looks a lot like a metro train, there is no driver and if you manage to sit in front you'll see this:
One of the world's most daring developments, the Palm Jumeirah in Dubai is a haven for vacationers. Jutting out into the Arabian Gulf, this man-made archipelago was built in the shape of a palm tree, with a 3-mile-long trunk and a fan of fronds lined with luxury villas and five-star hotels. From water parks and wildlife encounters to beach clubs and boozy brunches, discover 10 cool things to do at the Palm Jumeirah in Dubai.
One of the first things that strike you when visiting the Palm Jumeirah is its size. This giant archipelago is visible from space and the outer crescent is almost 7 miles long. There's also a sizable distance between each hotel, so walking isn't advisable.
Honestly, I wasn't impressed…mostly because it looked like a just another place where people live. Yes, a luxurious place, but nothing more. I think the Palm is most impressive looked from the sky 🙂
We were already here and to see what's happening at least a while. The first you see right after the monorail is the Atlantis hotel.
Atlantis was the first resort to open its doors on Dubai's revolutionary man made island, The Palm in late 2008. It includes many attractions, the most popular Adventureland, a huge aqua park with 12 m water slides and 2.3 km long river with waterfalls, waves and is rapids. There are also two Mesopotamian temples reaching 30 m heights, with water slides, two of them catapulting you to see-through pipes in a lagoon filled with sharks.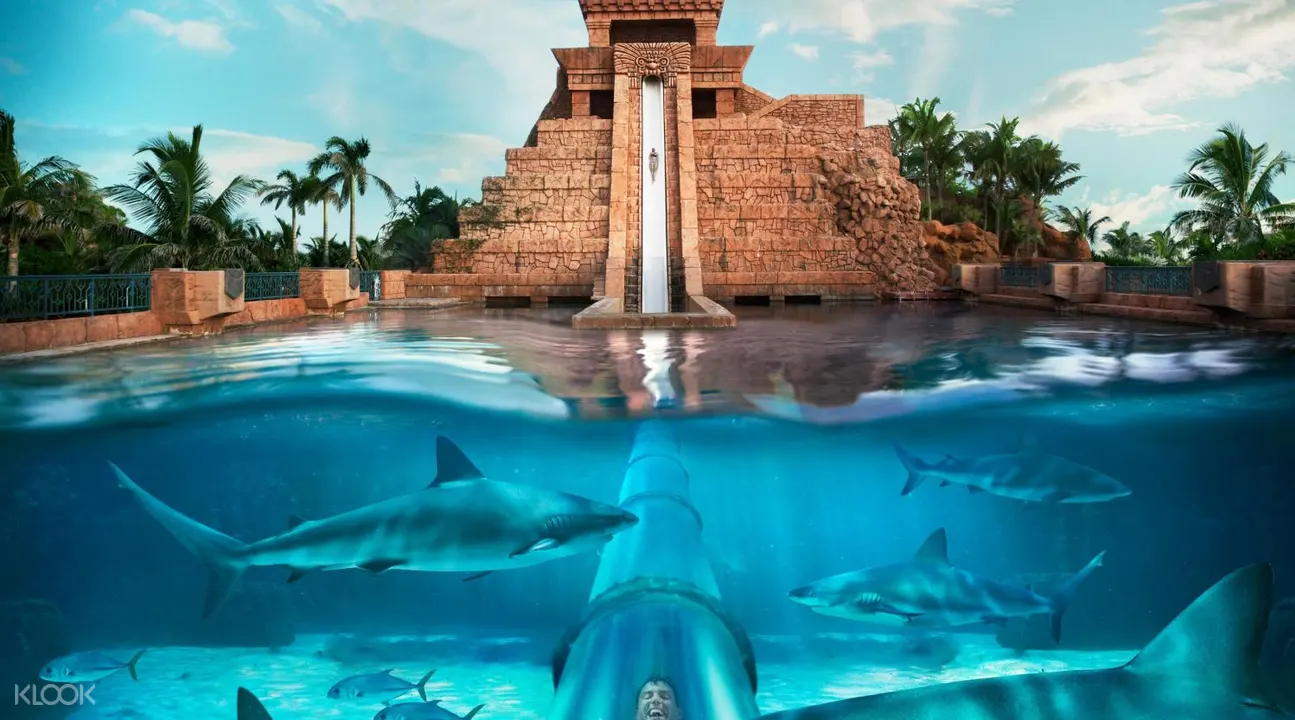 Here is also The Ambassador Lagoon, an 11 million litre marine habitat and one of the top ten largest aquariums in the world.
The Atlantis has its own beach looking at the Dubai skyscrapers and more than 700 sun beds.
Atlantis sets a welcoming tone for its guests with several decorative articles and details. One that is hard to miss is a large sculpture made up of 3,000 hand-blown coloured glass pieces that adorn the entrance of the grand lobby of Atlantis. Designed by renowned American glass sculptor, the 10-meter-high glass centerpiece is intricate, yet whimsical to look at.
Of course, all of that can not be seen for free, you have to pay an entrance fee, not a cheap one. Because of that we saw only a small part of the shops but, frankly, we were bored and went to see the ocean.
Since the Palm is a man made island, there are no beaches looking at the ocean, only huge rocks. So, besides the iconic Atlantis, there was nothing interesting 🙂
We were already quite bored from wandering around and decided to go back with the monorail to the inner part of the Palm where we saw some parks and playgrounds. I don't remember if I previously mentioned it but there are almost no playgrounds in Dubai. So each one we stumbled upon was like a treasure for us and our son.
Here are some views from the monorail:
This is how the area around the train looks like:
We stayed here for some time for our to play and went back to the apartment to have lunch and to prepare for our trip to the desert.
You can't visit it on your own so you have to buy a tour from one of the thousands of companies that offer such tours, usually to a nearby places in the Dubai desert.
Almost everyone has the same program – dune bashing with a jeep, camel riding, a meal at a camp. We weren't tempted by the dune bashing because it is a constant jumping through the dunes in high speed for half an hour and we were especially warned that it is not suitable for people with back or heart problems, as well as pregnant women and small children. As you can imagine, there was no way I was going to put my son through it, besides the fact that I'm not a fan.
So, i started looking for a company that offers a tour without this feature. My other desire was the tour to be in the evening so we could see the sunset. I admit, it was not an easy job, I had to look more than usual, but finally manged to find a company and I can recommend it – Funtours Dubai. The comunication happened by email and it was fast and professional. The price was 130 Dirhams per person, paid on site to our driver.
An here's how the tour itself happened and turned to one of the best evenings in the whole trip to the UAE.
Our plan was that the driver had to take us from our apartment at 3 PM. Were five minutes early but a nice Pakistani man was already waiting for us. We got in his a little dirty car and went for another two tourist unwilling to feel the amazing emotion of bumping into jeep walls in the desert. We saw many skyscrapers on the way…
… as well as the special taxis for women, the drivers are also women.
We took a nice couple of older Dutch and rode for the desert. If you look on the map the desert is quite close to Dubai but the ride felt like hours. We crossed almost the whole Dubai, saw the beautiful Al Salam Mosque, one of the newest in town, and many skyscrapers again.
While we rode, all of us tried to close what ventilation we could find, because the temperature was set below zero and we were freezing 🙂 In all the warm countries I've been, to give the best service they got, the ventilation is always set on freezing temperature and almost gives you cold.
However, after a lot of time, we saw the sands for the first time. I started to freak out a little, to see a desert was a dream of mine and somehow always failed to do it. Until now!
And just like that our driver just stopped in the middle of the road and told us to get off. It turned out that his car can't go any further in the sands and have to use a jeep to get to the camp where we will spend the evening. The other driver was driving slowly but nevertheless, we jumped quite a lot in the dunes and I saluted myself for the decision to choose this tour.
When we arrived I literally started to jump with joy despite that the first thing we saw was the queue for the camel ride and photos with the animals.
But our driver urged us to go inside the camp and to see what is inside and where.
We were greeted with falafel sandwich as well as some small dough balls, soaked in sweet syrup and really tasty. The falafel was also great and was with cucumber and unknown to me sauce.
Besides the treats we had free water and tea but alcohol and soda were for additional pay. All the stalls serving the food and drinks were situated aroun a concrete stage and the tables we were about to eat on. They were on the ground and for chairs we had huge pillows.
We didn't came to the desert just to stay in the camp so quickly went to the camel queue. There is no need to tell you that not only I but also our son was euphoric and was literally covering himself in sand from head to toes. He was rolling in ti, throwing it in every direction and having the time of his life. Naturally, he instantly found few kids his age and formed a little mad house. Oh, not to forget, there was a children playground inside the camp also.
The camels were so more important, so we didn't spent much time there. After you wait for your turn you get to three camels, waiting in line, each with two seatings. You get up, make a small circle on it and get down. Everything sounds perfect, right?
But when it comes to you and you see the way this huge animal gets up and you immediately start to panic. I had the feeling that I'm literally parallel to the ground when it gets up and down! I was in the front seating, of course, and I felt every move 100 %. I was terrified but everything ended well, our son was screaming in joy and is still talking about the camels 🙂
After them we went around the dunes and to marvel the sun and this vast space.
If you want you can pay extra and ride buggy or sandboard and a few other attractions.
We had fun just to climb and run around the dunes and to get down almost on our buts. Also with the futile tries to restrain our kid at least a kilo of sand in his shoes and clothes.
And here we are:
Here's a short video showing you how desert feels in real:
It was starting to get dark so it was time to head back to the camp. I went straight to the henna painting where a woman was giving a small drawing for free and a bigger one for 10 dirhams. I was really happy with the result 🙂
Here's the final drawing:
And this was our camp in the sunset
A little after dark a show program started. The first few dances, at least for me, were a complete parody. There were two women and a man that looked as if they wanted to do anything else but this. They performed an Egyptian, an Indian and an unknown dance and finished with a belly dance. I will show you just one video, I don't think they deserve more of our time 🙂
I had totally given up the idea that we will see anything interesting and a man came out performing a Dervish dance. He wiped out everything we saw before him and he was amazing. More than 20 minutes he didn't stop circling and doing all sort of tricks.
After him, another man came out, this this performing with fire.
And so in no time it was time for dinner. It was self serving and for some reason the women were separated from the men 🙂 There were some salads, humus, fruits, rice and a few starters. On the end of the line they gave us kebabs and some meat, also an Arabic bred, Everything was really tasty, the whole family was happy and well fed.
Sometime around 8.30 PM our driver showed up and hurried us to run fro the SUV that brought us here.We had no idea what the rush was for but it turned out that every vehicle leaves at the same time and a huge traffic jam was about to happen at the highway. So our driver was driving quite fast through the dunes and during our hoping up and down we saw endless line of car lights rushing through the dark sands. It was quite unreal and beautiful no matter the rush.
There was nothing notable on our way back, we went faster through the city this time, apparently the traffic was less and tired but happy we reached our apartment.
This is the end of my diary as I start to prepare for the next one when the time changed really quick and we raind upon heavily. Yes, it rains in the desert also, no matter that no one believed me!
Stay tuned and don't stop travelling (when we have this chance again)!
Очаквайте следващия пътепис и не спирайте да пътувате (когато отново имаме тази възможност)!