One of the few houses in London which survived the 1666 Great Fire of London.
The history of the site can be traced back to the 12th century when it formed part of the property granted to the Knights Templar, which in 1312 passed to the Knights Hospitallers of the Order of St John of Jerusalem.
The Order of St John was dissolved in 1540. In 1610 the owner of the property decided to rebuild. The new building became a tavern, known for the next 30 years as the Prince's Arms . In 1671 the property was sold to James Sotheby in whose family the freehold remained until it was purchased by the London County Council in 1900.
Several mythical stories are attached to this building. When the London County Council took over the building, a signboard across the front declared that it was "formerly the palace of Henry VIII and Cardinal Wolsey" but evidence of the rebuilding in 1610 refutes this claim.
Another story states that the house was built for the Council of the Duchy of Cornwall and that the room on the first floor was set apart for its use after Prince Henry became Prince of Wales in 1610. This would explain the three feathers motif on the facade and why the inn was called The Prince's Arms. However, records clearly show that the house was erected as a tavern and that the name was in use two years before Prince Henry was born.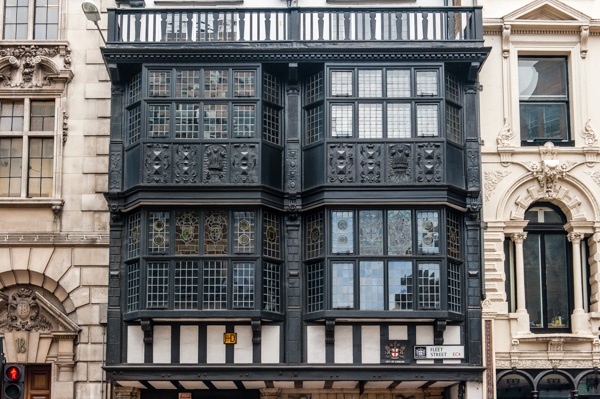 In 1900 it was discovered that there was a false front on the building incorporating eight carved panels. Behind this was the original 17th century half-timbered front, shorn of its bay windows but entirely preserved by the thick layers of paint which covered the whole front. The facade now appears in its original form.
Inside the building the main feature of interest is the large room on the first floor. Originally paneled in oak, only the portion on the west side of the room now remains. The remaining paneling and the chimney piece are Georgian and of pine.
The great treasure of the house is the ceiling, one of the best remaining Jacobian enriched plaster ceilings in London. In the centre of the design are the Prince of Wales feathers, and the letters PH in a star-shaped border.
There are two stained glass windows in the room – both 20th century. The right-hand window is the 'Royal' window, designed to commemorate the supposed association of the chamber with the Duchy of Cornwall. The other window illustrates the connection of the room with the London County Council, the City of London and the Honourable Society of the Inner Temple.
And the location: